14 tips for backpackers in Bangkok
I was a little apprehensive about Bangkok after hearing mixed reviews. Some people loved it, others thought it stunk of shit. Don't get me wrong they weren't far off but after spending 3 nights here to kick start my trip I've decided I love Bangkok! It's carnage and chaotic and the famous Khao San Road is a backpackers dream. Here's a few heads up if you're thinking of heading to this wonderful city.
Get a traveller sim card in the airport
You can buy a 30-day sim card for 459 baht (about £13) in Bangkok airport with free unlimited 4g and 500 baht call credit which I'd say is a pretty good bargain! Apart from the comfort of knowing o2 aren't going to hit you with a massive bill when you get home, Google maps and the internet are an absolute god send when you're trying to work your way round a foreign city. However, if you're kind of looking forward to being cut off from the world for a little bit and want to stick with your current sim, free Wi-Fi is practically everywhere anyway. Maps.me is also a fab offline version of Google maps so you don't need internet. Every backpacker is on the Maps.me bandwagon.
Learn to breathe through your mouth
Bangkok has a very distinct, unwelcoming smell that comes and goes in parts of the city. It's not a deal breaker but you may as well get used to it if you plan on travelling around Thailand, or learn to hold your breath.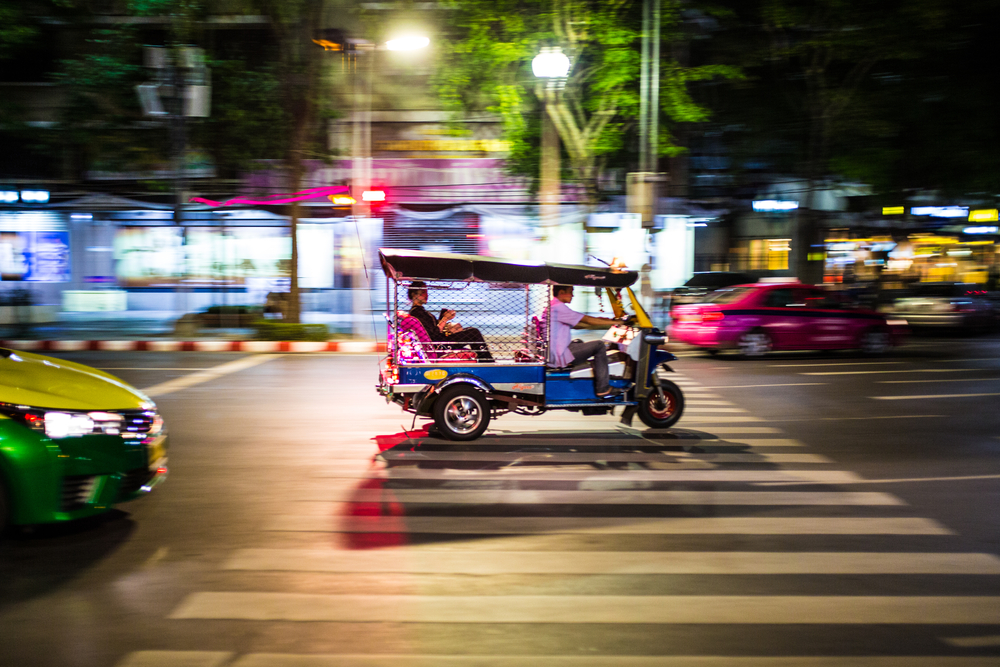 Don't expect the traffic to stop for you on a zebra crossing
After trying to cross a road for a good ten minutes I realised zebra crossings are more of an optional possibly privilege in this country. A good old fashioned game of chicken with the traffic is how you should handle this one. Or just wait for a Thai person to cross the road and follow them, they know what they're doing they got this! Death by tuk tuk likely.
Eat the street food
Bangkok is street food heaven! You'll soon spot a man with a dodgy looking pad thai food truck on wheels, but trust me this is where you'll find some of the best food, and the cheapest. Be prepared to pay a little more when you go into restaurants or cafes. I mean everything is still cheap compared to back at home but when you're on a backpackers budget every baht helps.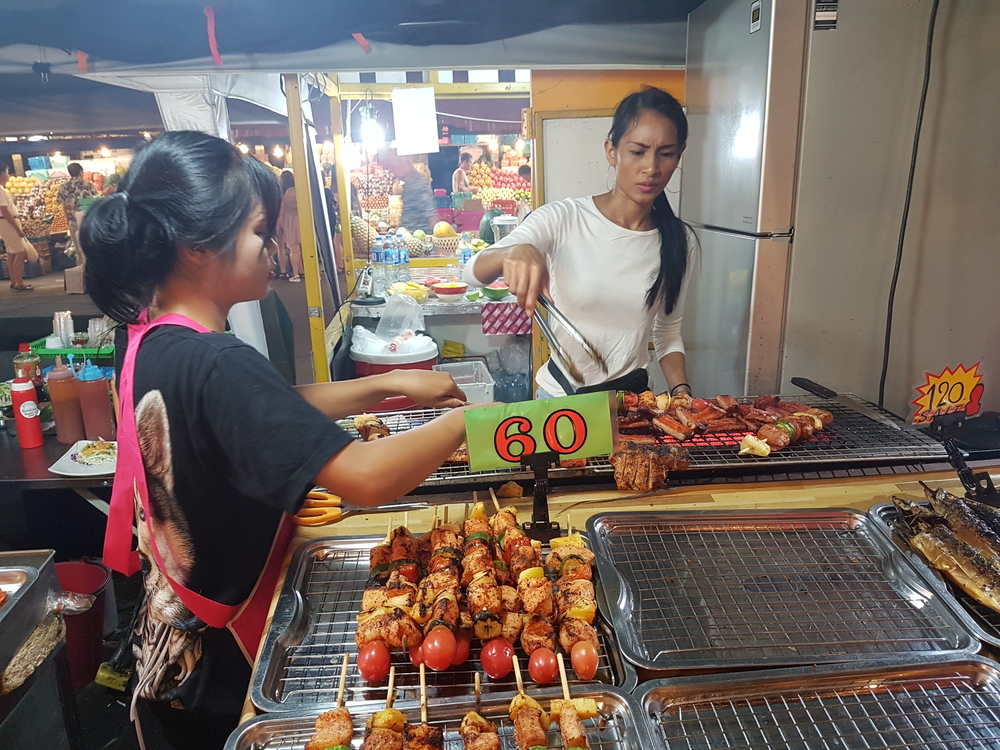 Take the free bus
Forget the Arriva bus with free Wi-Fi or the comfy bus from back home. Lookout for a shaggy looking red bus that looks like it's about to fall apart. These buses go all over the city and best of all, they're free! Completely within budget. Just tell the driver where you want to go and he'll tell you what number to get. You could even ask a Thai person at the bus stop. Strangers have been so helpful and they love a chance to practice their English.
The river taxi is way cheaper than the tour boat
The river taxi is one of the quickest and easiest ways of getting around Bangkok, not to mention the most picturesque. They operate up and down the river frequently costing around 10 baht depending on the length of the journey. There are also smaller ferries to cross the river setting you back a measly 3 baht (7p like seriously). The tour boats cost around 30 baht and basically do the same route only you have a tour guide talking you through everything so it depends what you're looking for. You can get to the main temples via river taxi including Wat Arun and the Grand Palace.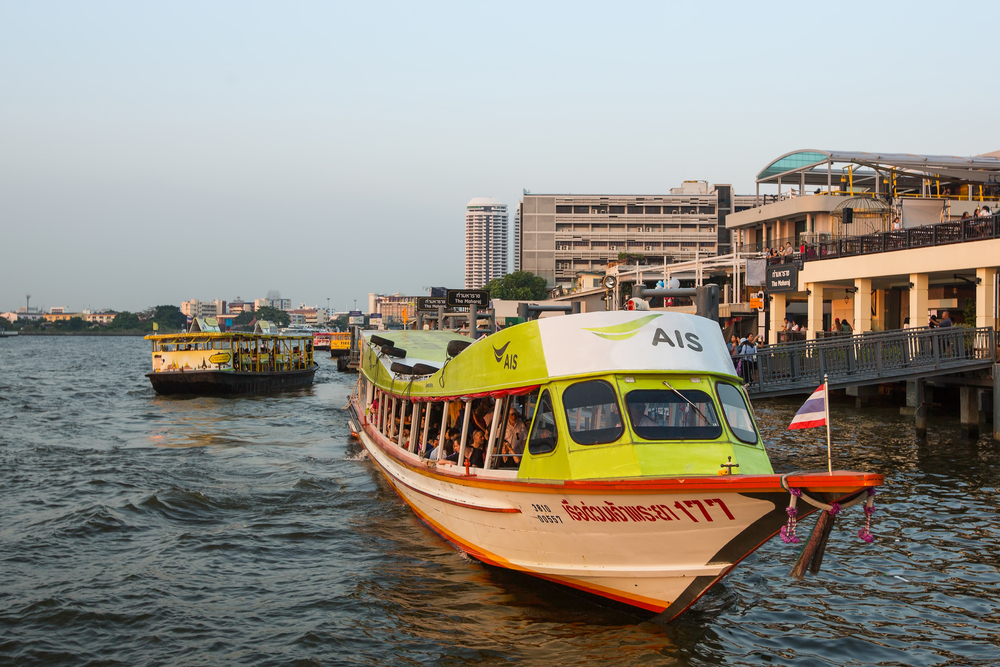 Cover your shoulders in the temples girls
Scarfs are available to rent for around 50 baht with a 100 baht deposit at Wat Arun for example, but it's just unnecessary money which could be better spent.
Don't be afraid to barter
Thai's can tell a tourist a mile off which is a perfect money making opportunity when a fresh, vulnerable backpacker first hits the streets having little experience in this environment before. Don't get me wrong, don't be going into restaurants trying to barter them down for a set of spring rolls, but when your shopping or getting transport like taxis and tuk tuk this is where you hustle. In my experience, depending on your bartering skills they will usually cave for possibly at least half the price they first propose. Barter that shit!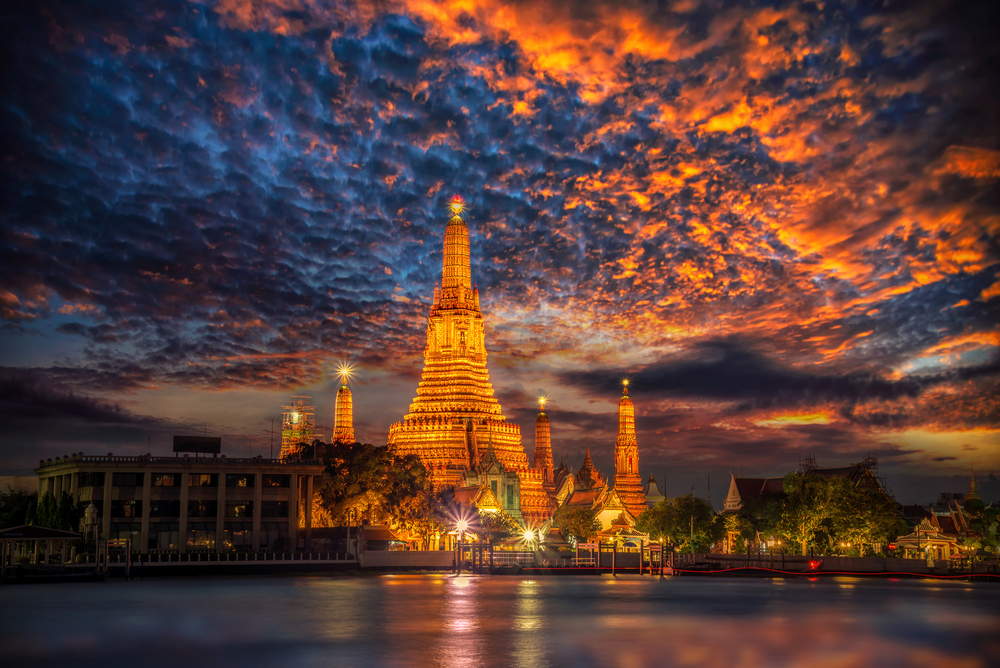 If a taxi doesn't have a metre, ask a price before you get in
It's a standard procedure of getting ripped off in first taxi you get in a new country as you haven't yet managed to get the gist of the currency and prices yet. Usually taxis will have a metre but I have heard of them pretending it's broken or covering them up. If this happens just ask a price and barter that shit if you feel it's too much.
Tuk Tuks try and rip you off
When you tell the driver where you want to go he'll say a price. This isn't a fixed price and he's more than open to negotiating. Depending on the price I would possibly start the bartering at half the initial price and work your way up. Taxis are cheaper but it's so much fun flying home from Khao San Road at 3am in a tuk tuk.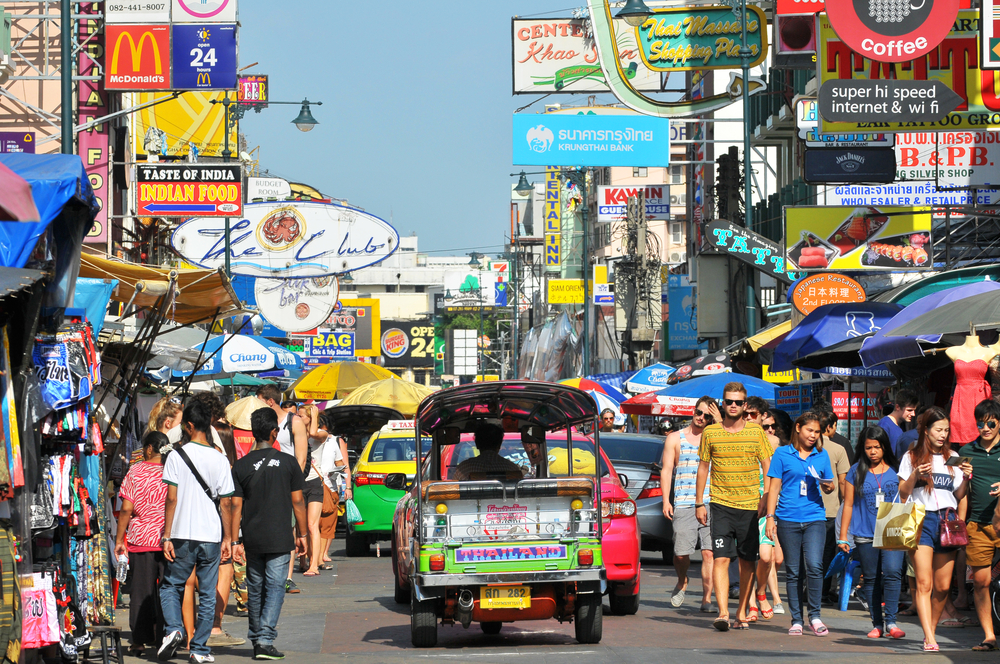 Learn to use the bum gun
If you don't know what a bum gun is don't be afraid, it's not as violent as it sounds. It is however an art after a few buckets on Khao San Road and not coming out looking like you've wet yourself. Basically, the sewers in Thailand can't handle shit like ours can at home, literally, so they have a small shower head type thing on the wall of every toilet, to rinse yourself off after you've done your business. You're then supposed to dry yourself with toilet paper that's never there, put it in the bin and pour a bucket of water down the toilet after. It will take a few goes of getting drenched and blasting your bits too hard before you get the hang of it. All part of the experience lol.  
Try a fried insect
Cremated scorpions and other insects on sticks will be getting shoved in your face left right and centre. For the sake of £1, it's worth it for the dirty picture opportunity if nothing else. Very Instaworthy.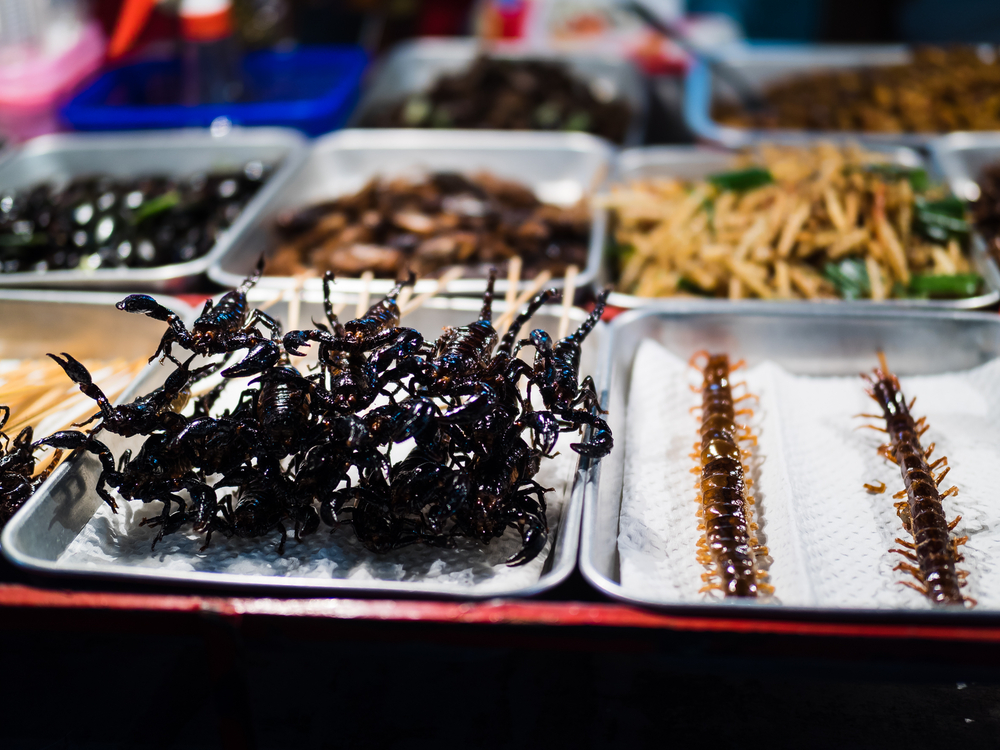 The view from the Sky Bar at Lebua is a must
With The Hangover putting this bar on the map, it's not hard to see why! Bangkok at night from 64 floors up is pretty amazing. Not very budget friendly though with £22 cocktails which for some backpackers like ourselves is nearly a full day's budget. You can get a beer for £9 though, maybe do that get a picture then leave. The bar is on Silom Road which is a really nice area to stay in if you think Khao San is a little daunting.
Don't leave without dressing up as unicorns at Unicorn Café
Some days you achieve life goals and some you just need to dress up as a unicorn, eat pretty unicorn foods and be surrounded by unicorn things. At Unicorn Café they understand which is why they cater for your inner child. If eating princess waffles in a unicorn onesie is up your street, then head to Bang Rak. This was one of my fave places in Bangkok!
Next stop, Chiang Mai. Watch this space…
---
---