7 Fitness Tips To Stay Motivated In The Colder Months
We have made it to Autumn; my favourite time of year. The warm Summer evenings have been replaced by darkness and the mornings are becoming frosty and brisk. The floaty summer dresses and sandals have been pushed to the back of my wardrobe and have been replaced by chunky knits, scarves and boots. Halloween candy lines the shop shelves and Christmas chocolate is making an appearance too so the temptation is very real. Watching Netflix for hours whist snuggled up under blankets by the fire seems like the perfect past time whilst the weather outside gets colder, however it is so important to keep moving and stay fit over these months for both your health and to feel good about yourself.
We are fed messages in the media that fitness is a seasonal trend – 'Get Fit For Summer' or 'Get a Bikini Body in 10 Days', however the more we think about keeping fit as a lifestyle all year round, the better and more sustainable results will be reached.
Stop the seasonal fitness bullshit
Every year the 1st of January arrives and the "new year new me" statuses starting flying around social media, but why should the new year be a catalyst to start looking after yourself? It is never too late to start working on yourself, and what better time than today! I am not talking extreme changes but even going to the gym twice a week and eating a little more healthily will start to change how you feel in yourself.
Set a goal for Spring
This is what I did last year; I signed myself up for a half marathon in October and the event was in February. I had two options really – to work hard so I could achieve my best on the day, or I could sack off training for chocolate fuelled Netflix evenings and have no idea how I would do on the day. What did I end up doing? I had my indulgent days but I made sure I was running at least three times a week even on the coldest evenings. If you have a goal and you want to do well this can be a really great time of year to set a goal to keep pushing you through the Winter.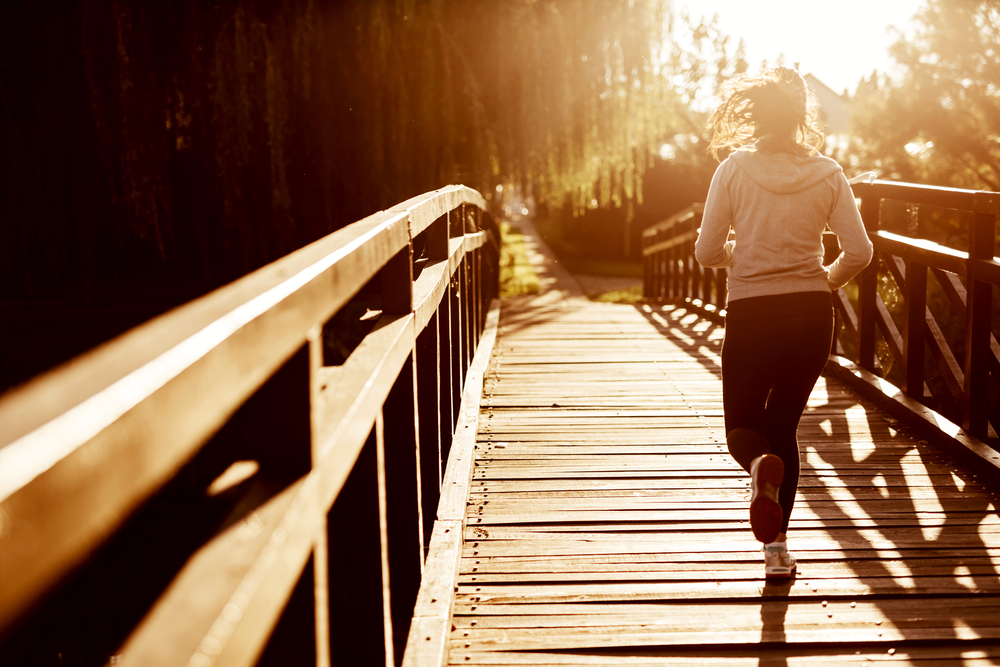 Focus on the benefits
I am definitely an advocate for balance, which to me means I love to keep fit and healthy, however I also love chocolate, cheese and lazy duvet days. However what I have learnt over the years is to listen to my body and notice what makes it feel good or bad. Working out 7 days a week makes me super tired and more likely to get sick, but on the other hand eating a share bag of chocolate every night makes me feel bloated and gives me bad skin. Find a good balance for what makes you feel best both physically and mentally.
Find indoor activities
The colder months could be the perfect excuse for you to find a new activity to fall in love with. There are so many options available to us now to exercise indoors, and it doesn't just include going to the gym. A few examples I can think of are swimming, gymnastics, climbing and trampolining. Search what is around your local area and try something new.
Buy new activewear
An excuse to go shopping? Yes! Those strappy gym vests you've worn throughout Summer are probably not up to the cut for the colder months. Think about what activities you will most probably be doing during the winter months and buy appropriate clothing for them. If you are running outdoors you will need suitable layers which includes something waterproof. If you are based in the gym maybe some long sleeve tops will be more appropriate.

Comfort food clean up
What is your go to comfort food in Winter? Mine has to be bacon mac 'n' cheese or a beef stew. As mentioned I love to indulge once in a while but if you want to keep up with your fitness progress you do need to take into consideration the food you are eating. There are always ways you can make your favourite meals a little healthier with ingredient swaps or simply making it from scratch instead of buying a ready meal. Get in the kitchen and experiment!
Workout at home
If you really can't face leaving the comfort and warmth of your home there are plenty of options for working out at home. There is a big misconception that you need equipment for working out which most do not own, however there are plenty of effective body weight workouts you can do using no equipment at all. Youtube is a treasure chest full of different workouts to try from yoga to HIIT.
---
---