A guide to a guilt-free Pancake Day
For many of us, Pancake Day is an excuse to relinquish any remaining hopes we had of clinging to the illusion that we eat healthily. However, that need not be the case. These simple tips and recipes will ensure you can enjoy yourself without burdening your conscience… and your waistline.
So, to start with some top tips…
Cook in a non-stick pan
Cooking in a non-stick pan will reduce the amount of fat you need. Similarly, cooking in an oil spray will help you cut out any unnecessary fat.
Avoid plain flour
Pancakes are traditionally made using plain flour, which is lower in fibre and higher in fat than many potential substitutes. Swap this for any number of healthier alternatives. Whole-wheat flour, for example, contains 16 grams of fibre compared to plain flour's paltry 3. Another viable alternative, buckwheat flour, is gluten-free and is packed full of nutrients (B vitamins, magnesium, manganese and phosphorous to name just a few).
Avoid full fat milk
Buttermilk has seen a recent surge in popularity in health and fitness circles as a replacement for milk. With far less fat and probiotic qualities, it is easy to see why.
Alternatives to sugar
Fruit is a staple of any healthy diet, and is a useful way to provide sweetness without resorting to adding unneeded sugar. In a similar fashion, syrups and honeys, while still sugars, are a simple way to retain a sweet flavour whilst minimising the amount of sugar you consume.
Add protein
Adding a scoop of protein powder to any meal will make you feel fuller for longer, reducing the amount of calories you consume.
Recipes
Blueberry Buckwheat Pancakes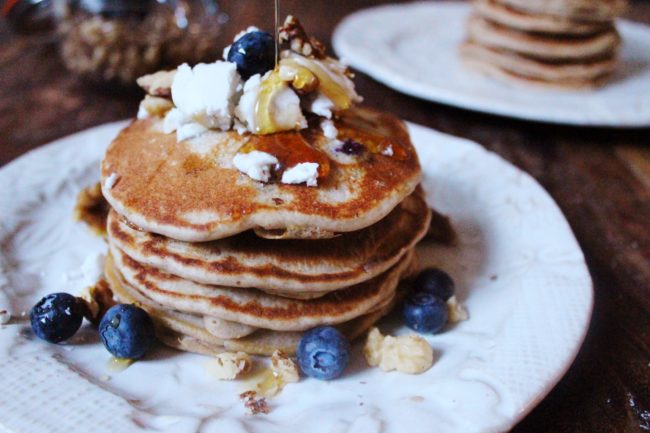 The perfect way to combine these tips is in this delicious recipe for Blueberry Buckwheat Pancakes. Rife with alternatives to the traditional foundations of any pancake recipe, this recipe capitalises on every opportunity to make Pancake Day as healthy as possible; from almond milk to buckwheat flour, to blueberries to coconut oil. Lower in sugar and higher in antioxidants than many other fruits, blueberries are also the ideal fruit to add pancakes.
BONUS TIP – leave the pips of fruit in to boost fibre content.
Chocolate Orange Protein Pancakes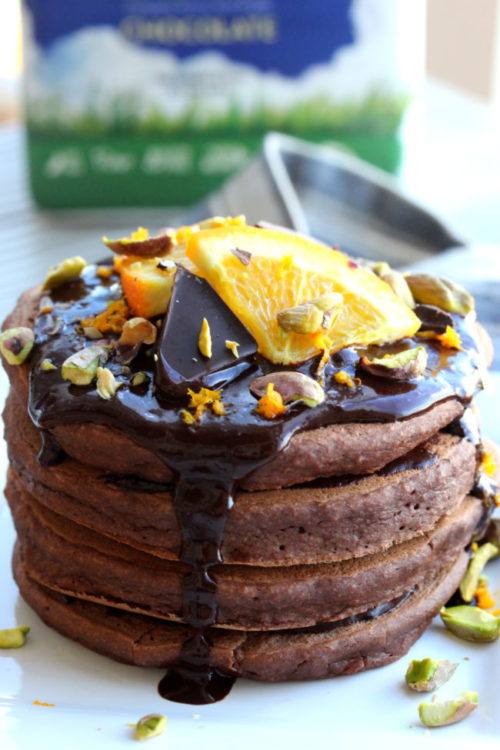 Chocolate? Healthy? Endorsed by a Kardashian? What more could you want? This recipe is supposedly the favourite of Khloe and it is understandable to see why. The use of almond milk and cooking in coconut oil eliminates any pesky fats and the scoop of protein powder guarantees you won't go hungry.
VitaMatcha pancakes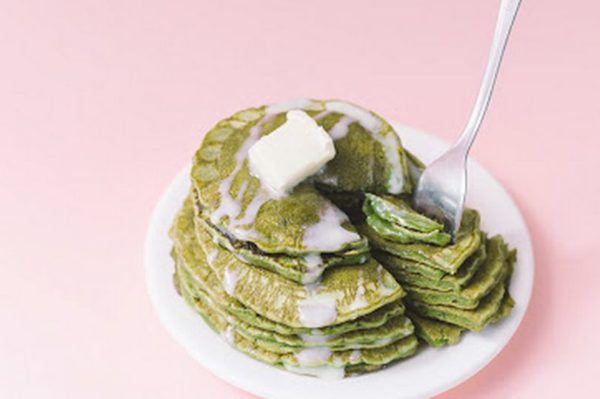 Matcha is a finely ground powdered form of green tea that boasts 20 times the nutritional value of a single cup of green tea. Accordingly, these pancakes are teeming with anti-oxidants which are superb for reducing cholesterol. In keeping with all of these recipes, the VitaMatcha pancakes opt for coconut flour and buttermilk as fat-cutting alternatives.
Carrot Cake Pancakes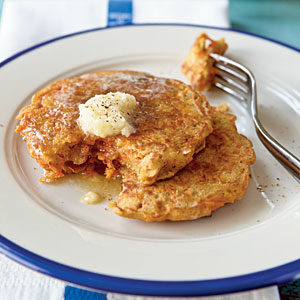 Bursting with the spices typically associated with carrot cake but without any of the expected sugar or fats. These carrot cake pancakes also unsurprisingly utilise buttermilk as an alternative to milk, minimising any potential fats.
This collection of tips and recipes has hopefully renewed your faith in Pancake Day as a day you are allowed to gorge on pancakes (now) guilt-free.
Do you know any healthy tips or recipes that belong on the list? Let us know!
---
---