The best 'scrangovers' in Liverpool
We've all been there. You meet up with your fellow Prinnies on the promise of just one glass of Prosecco before its home to bed, or head out for a catch up with the lads with a strict curfew of 11pm. Before you know it, glasses turn into bottles, selfies turn into shots and the last train is but a dot in the distance to your drunken self. From sitting round a table at the Peacock to knocking down the door of Garlands at 4am, your night goes from zero to one hundred real fast and you find yourself screaming dinner debrief plans over Ja Rule & Ashanti before parting ways as the club lights illuminate.
No great hangover get-together was complete without carbs glorious carbs and the kind of food that make the pounding head and the relentless nausea worthwhile. So where are the best places to grab a bite that will kick any hangover's ass (even a Krazyhouse hangover) in Liverpool then? Allow me, Hungry Harriet, the scouse scran aficionado to tell you…
A bit of brain-soothing brunch: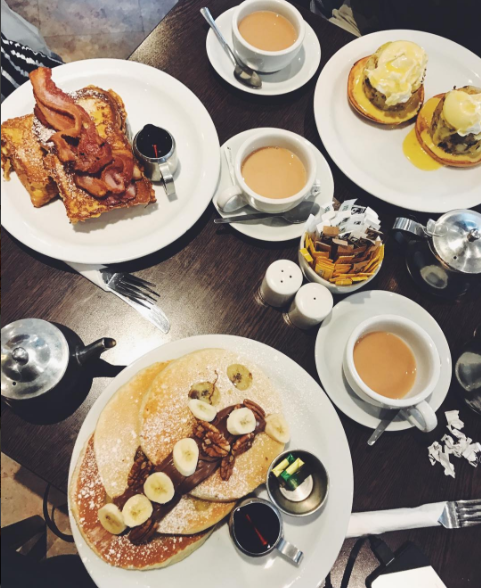 (Above: Moose Coffee)
If you're one of those annoying people who can just bounce out of bed and brush even the most hellish of hangovers off like you were drinking h2o all night, breakfast is the best option. Okay, maybe make that brunch – even the most hardcore amongst us need a lie in after slut-dropping to Sean Paul all night long.
Lucha Libre – If the water isn't working out and the Paracetamol just aren't doing the trick, sweat it out with a traditional Mexican brunch at the best burrito shack both sides of the River Mersey.
Moose Coffee – Arguably the best pancakes in town, Moose was made for hungover breakfast dates but act fast because the tables fill up faster than you can say 'I'm never drinking ever again'.
The Tavern Co. – From salmon 'n' eggs and avocado on toast to sticky pancake stacks and thick, creamy milkshakes, 'Tavern' breakfasts have become a bit of a holy grail in Liverpool.
A death-dodging dinner date: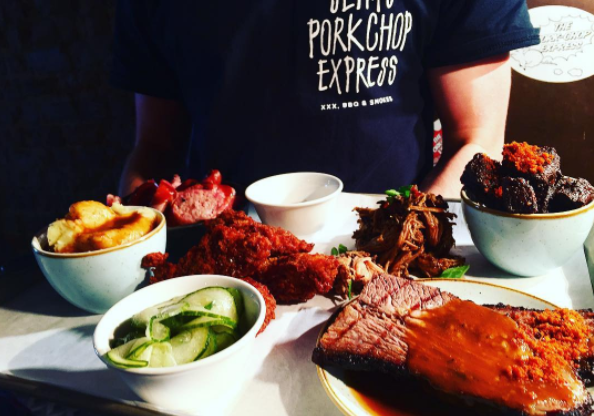 (Above: Slim's Pork Chop Express)
If you drank enough Red Stripe last night to knock you out until at least 3pm, the option of a hearty breakfast is long gone. (Unless you hoovered up a double McMuffin and 10 hash browns before hitting the sack of course) Time to top up the old nutrients and replenish your energy supply with something substantial…
Almost Famous – As if this legendary burger joint even needs any introduction, right? Meat sluts unite; Almost Famous is here to bust your boozy blues.
Mowgli – Get that Indian cuisine craving fix that kicks in as soon as you're more than 3 pints down at Mowgli street food. Authentic and delicious without all the bad stuff, it's gluttony without the guilt.
Slim's Pork Chop Express – From Sunday roasts big enough to feed the whole of the Blazin' Squad for a week to deep fried sui mai, dirty corn dogs and BBQ brisket covered beans, Slim's knows what's up.
Midnight snackin' like a boss: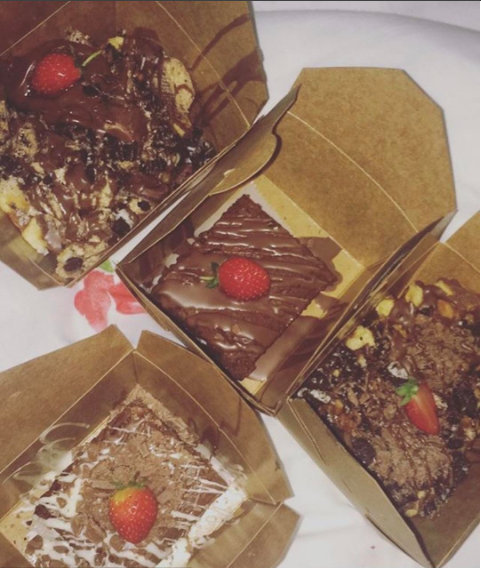 (Above: The Midnight Delivery)
If, like me, you're the kind of person who thinks they're almost definitely at the end of their lives after a night out then welcome to the midnight snackers club. We're dramatic, we're super bloody tired and we're in desperate need of salt and sugar okay?! After 20 power naps throughout the day of course.
Nightcrawler Pizza – Attached to The Merchant, Nightcrawler Pizza serves up slices the size of yo' head and if the thought of going near a bar ever again makes you want to cry your eyeballs out, have no fear – Nightcrawler has its own little in and out.
The Midnight Delivery – This one you don't even need to leave the comfort of your hangover den for. Think donut fries, think chocolate sauce over e'rythang, think fidget spinners made out of Oreos and order them without halting your Netflix binge.
Santa Maluco – Now serving pizza by the slice 'til 1am, Castle Street's Santa Maluco is the perfect place to get something good 'n' greasy to wipe out the whoozies.
And hey, if you really can't lift that spinning head of yours off that sweaty pillow, Deliveroo will always have your back. Burgers brought to you on a bike? It ain't all bad, kid.
---
---