5 Times Kylie Jenner Gave Us #StyleGoals on Instagram
The goddess of style knows her game, and she knows it well!
The lip-plumped Jenner emperor lives up to the expectation of a social media leader and a new-age celebrity in her own right, with a pseudonym King Kylie that suits her proper. With 65.3 million followers on Instagram, 16.6 million on Twitter, and at one point the most-viewed account (@kylizzlemynizzl) on Snapchat, the youngest Kardashian-Jenner plastic queen is repeatedly giving us major envy with her lavish lifestyle, phenomenal wardrobe and a fantastic eye for fashion, great friendships, committed love life (on-and-off romances are in these days) and all that young money.
With no actual effort invested in her empire but an amazing talent for a good selfie, Kylie's recent accessory purchase is probably worth more than you, me and the two of us together. Sad.
What IS IT about this Jenner boss b*tch that gets us spinning in circles each time she posts a random Instagram photo or just walks the streets of… anywhere?
We hate her and we love her and we can't get enough of her. There, we said it. Oh and – we want her clothes. Now.
While there are numerous times she's given us style goals, we're singling out our top five favorite – you have no idea how difficult this was!
1. That time when she channeled Kim

With her blonde hair in a high tight bun, hips on display and a waist you could easily grab around with one hand, Kylie looked like a metallic goddess. Much resembling her older sister Kim silhouette-wise, the youngest Jenner made a statement with a denim jacket over her Yousef Al-Jasmi  mini dress and an orange shade on the lips that gave the outfit freshness and soul. We jaw-dropped a bit.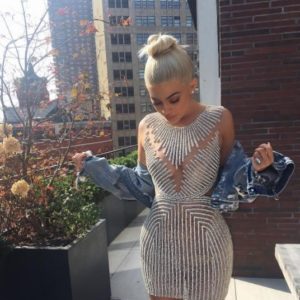 2. That other time she went retro

Nothing too spectacular in essence and yet – a combination she pulled off better than many celebs have their Red Carpet gowns. She paired this white cropped top and high-waist retro pair of jeans with unusual cutouts on the sides, her hair dark curling up around the bust and a red lipstick – Kyle could've easily be mistaken for the next-door sweetheart back in the '60s. A sweetheart on the loose, that is.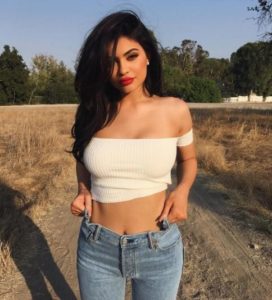 3. The time she was a goddess in white
A simple two-mirror selfie showed off some Jenner skin and a breath-taking satin, white wrap-dress that Ms Kylie wore with such humble grace.
With her hair messily falling over her shoulders and a dark lip to add some edge, the forefront fashionista paired this uber-chic dress with a pair of strappy white heels, giving the impression that anyone could look as spectacular. Turns out, we can! Meshki dresses are to swoon over and yet – their collections are incredibly affordable (rumor has it this dress was only $89). You know what to do.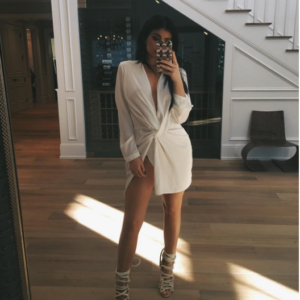 4. The time she explained Urban Chic and Rose Blonde
If you'd thought for a second your urban leopard jacket has anything on Kylie's, rewind. She's got it. She's it. Rocking high street fashion like no celebrity out there! This Topshop leopard jacket is just what we need  for autumn season!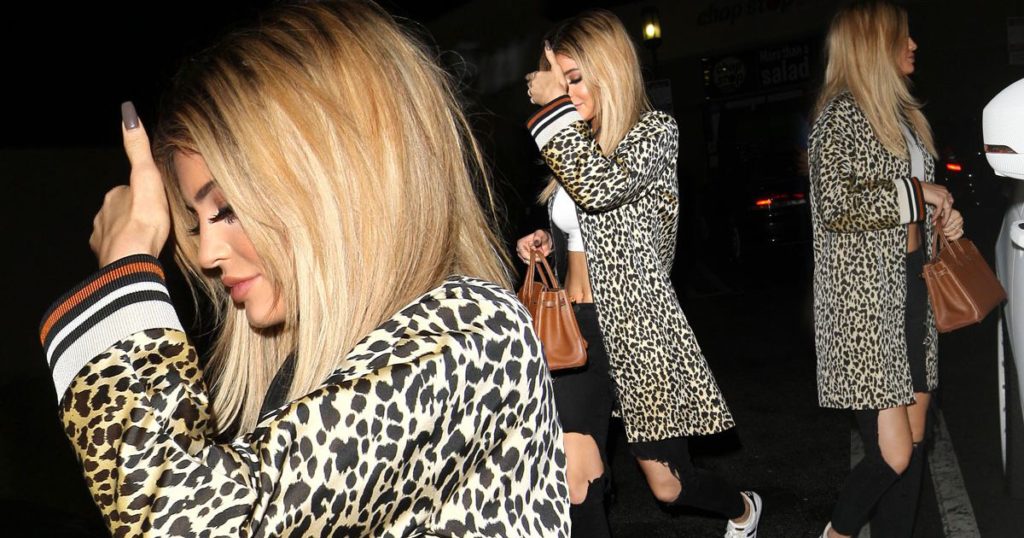 5. That time she gave power to bob
We're used to having Kylie change hair colors and go back and forth with bang and braid styles, but we've rarely ever seen her experiment with lengths. Well, a few months ago she cut her long locks short and made us go WOW.
When she walked the Red Carpet at Met Ball 2016, she was spectacular. Naturally, her Balmain metallic dress turned that bob even chicer and we've all considered cutting our hair, immediately.  Most of us went with the instinct, unfortunately.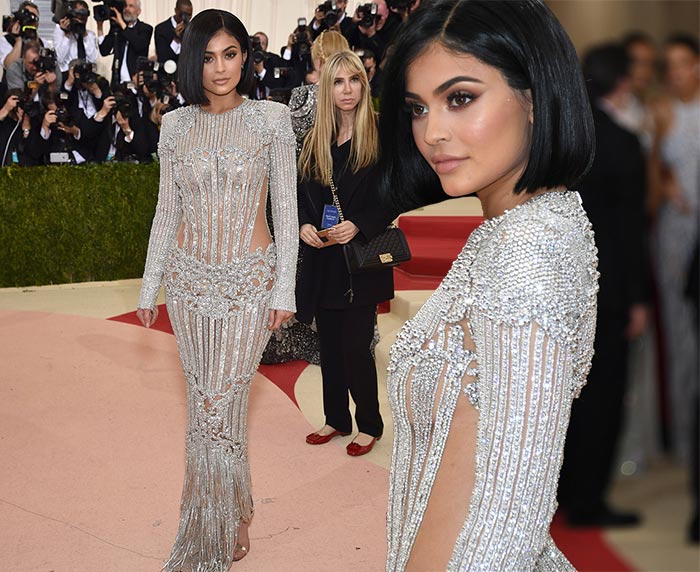 Love her or hate her, you'll want to be her – at one point or another. Deal with it.
---
---